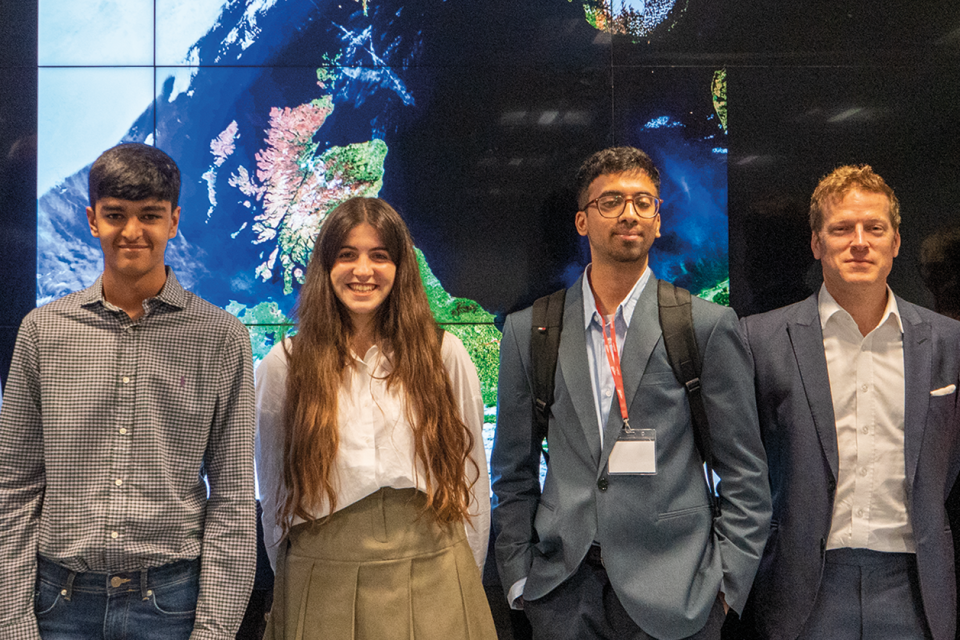 Teenager wins global satellite idea competition
Derby Grammar School pupil Awais Ali, 16, will receive £3,000 and expert advice on how to develop his idea for an app for cyclists that would help them choose routes and send an automatic alert in the event of an accident.
Now in its fifth year, the SatelLife competition awards young people a share of £50,000 for the best ideas on how to use data collected from space to benefit everyday life, with ideas this year including apps to help energy consumers, protect vital blueprints for carbon uptake, and improve earthquake prediction.
A team from the University of Leicester won the group prize for their idea of ​​tracking harmful levels of minerals and nutrients in water, which can pose a danger to health and ecosystems. There were also prizes for eight finalists, comprising four individuals and four teams.
Awais Ali said:
When I learned that I had won, I was over the moon. My idea started when I read about eCall technology in cars, which automatically calls emergency services with your location in the event of an accident, but I couldn't find any similar product designed specifically for cyclists, like me. Cyclists regularly ride in rural areas and often in isolation, so a design feature to ensure their safety is paramount.

I would love to see my idea put into production because it would be so rewarding to be part of a product that could save a life.
This year, the first satellite launch will take place from a UK spaceport, with Virgin Orbit's Horizontal Launch System due to lift off from Spaceport Cornwall. This will be followed by a vertical launch from Shetland's SaxaVord spaceport and Sutherland space hub.
Dr Paul Bate, Director General of the UK Space Agency, said:
The countdown is on for Britain to become the first country in Europe to offer the launch of small satellites, building on our world-leading satellite manufacturing industry. Seeing the launch of satellites from the UK for the first time will be a huge moment and one that I hope will inspire people to think about the opportunities in our growing space sector.
It is fantastic to see young people so passionate about using space technology to improve our lives and my congratulations go out to Awais, the University of Leicester team and all the finalists. It is this imagination and creativity that will ensure the continued growth of the UK space sector.
Satellites support the economy and everyday life, and this competition gives people aged 11 to 22 the chance to test their ideas with space experts and maybe one day become part of one of the fastest growing industries in the UK, which already employs 47,000 people.
The UK space agency is committed to championing the power of space to inspire people and deliver greener, smarter solutions for businesses, supporting a more sustainable future.
British ESA astronaut Tim Peake said:
It was amazing to see millions of people inspired by my journey into space and I hope when the satellites are launched from the UK it will help show young people that there are all kinds of jobs in the space sector.

Satellites play a huge role in our daily lives, from monitoring climate change to watching TV, and it's amazing to see the fantastic ideas for how they can improve life on Earth. Well done to Awais, the University of Leicester team and all the finalists.
Mohammed Siddiqui, of the University of Leicester winning team, called EUTROPH-1, said:
I am delighted that our revolutionary and pioneering idea on eutrophication monitoring using a satellite platform has excelled and triumphed in the SatelLife competition. Today, our water bodies are increasingly polluted by industrial and agricultural waste and these actions expose our marine ecosystems to a high risk of eutrophication. Therefore, our satellite will provide vital data to help monitor and manage the risks of developing eutrophication.

I would like to continue working on developing our idea beyond the concept stage with the goal of turning it into reality and launching it into space. My aspiration is to build a career in the space industry as I aim to contribute in an innovative and sustainable way to help transform the space sector.
The judging panel was made up of experts including industry representatives and the UK Space Agency, Satellite Applications Catapult and the European Space Agency (ESA).
The UK is a major investor in ESA's commercial applications program and hosts the European Center for Space Applications and Telecommunications in Harwell, Oxfordshire.
Individual category winners
Cycle Aid, Awais Ali, 16, from Derby Grammar School
Winner in the Individual category – Awarded £3,000
Awais is an avid cyclist and wanted a bike-specific system to help navigate various terrains and alert people to emergencies. It offers software that uses GPS and weather information to help choose routes and timing and, through telemetry like gyroscopes, alert people you trust to an unexpected route change or unusual movement that would indicate that the cyclist crashed or was involved in an incident.
Increasing and encouraging energy efficiency with satellite data: microgrids, Eleanor Stanton, 22, from the National Center for Oceanography, University of Southampton
Finalist in the Individual Category – Awarded £2187.50
Eleanor wants to change the public's perception of energy consumption through an interactive app that uses data from small modular reactors (SMR). It proposes the integration of SMRs into a micro-grid alongside renewable energies such as wind and solar. Through the strategic use of weather satellite data to predict renewable energy efficiency and the use of SMR data, energy consumers can monitor where their energy is coming from, learn more about nuclear energy and encourage the conversation.
Using satellites to determine optimal sailing routes for sustainable shipping, Callum Reid, 14, from Southmoor Academy, Sunderland
Finalist in the Individual Category – Awarded £2,187.50
Callum's idea is to receive data from ocean observation satellites to predict the strength and direction of global ocean currents, and the ability to determine optimal routes and conditions for global navigation. With this concept, shipping companies could determine the fastest, safest and most cost-effective routes, reduce journey times, increase energy efficiency, reduce costs and reduce both the volume of greenhouse gas greenhouse emitted by the global shipping industry and the impact on climate change.
Using satellite technology in landmine and UXO detection, Oscar Scully, 17, of Aquinas College, Stockport
Finalist in the Individual Category – Awarded £2,187.50
Oscar's entry used satellite imaging, positioning and scanning technologies such as ground penetrating radar to make the detection and removal of landmines safer, cheaper and more reliable. Oscar believes such a system would help reduce the impact of war and indiscriminate munitions remnants on communities living in post-war environments and ultimately save lives.
Satellite Blockchain Solutions (SBS), Troy Wood, 20, from University Academy 92, Manchester
Finalist in the Individual Category – Awarded £2,187.50
Troy proposed the use of satellite blockchains to store encrypted aircraft black box data, with greater connectivity and security than cloud-based servers. This would help in cases where black box data recovery is not possible.
Team category winners
EUTROPH-1: A Eutrophication Tracking Satellite, Fiona Poda, Riyad Drous, both aged 22, Mohammed Siddiqui and Domen Gostincar, both aged 20, from the University of Leicester
Winner in the team category – Awarded £12,000
Eutrophication is the process by which a body of water becomes progressively richer in minerals and nutrients. The effects can be harmful to health and pose a danger to ecosystems. The EUTROPH-1 team proposes the use of a satellite to monitor, track and assess the risk of development of eutrophication in water bodies using remote sensors. The data would feed into an alert scale based on warning signs and risks, prompting increased surveillance and more means of prevention.
3mergency (pronounced emergency), Team 3mergency – Neve Bennett, Faye Crowley, Amber Russell, all 15, and Lily Tonkin, 14, from Penrice Academy, Cornwall
Finalist in the Team Category – Awarded £8,750
3Mergency's idea is a necklace or pendant fitted with a discreet distress beacon. By activating the concealed button on the pendant, a signal is received via MEO satellites and up to three emergency contacts will be alerted to the wearer's location and emergency. If you press the button twice, the police will be alerted to your emergency and your location. The pendant is linked to an app which contains maps and can be customized to include havens such as friends and family homes and allows the user to undo false activations.
TectOrbit, Michael Clark and Aryan Shah, both 18, undergraduate students at Imperial College London
Finalist in the Team Category – Awarded £4,375
TectOrbit would see the deployment of satellites in geostationary orbit, paired with a fleet of Autonomous Underwater Vehicles (AUVs), each containing equipment that would maximize the confidence and accuracy of earthquake prediction through real-time data analysis. timely. When the warning level thresholds are reached or exceeded, the relevant authorities would be alerted.
Monitoring native seagrass using geosynchronous satellites, Dylan Spokes, 17, and Hayley Watson, 18, from Truro College, Cornwall
Finalist in the team category – Awarded £4,375
Dylan and Hayley propose the use of satellite data to assess the state of native seagrasses, which are responsible for 15% of all carbon uptake in the oceans, restoring and enhancing growth where needed. Thanks to high-definition optics, they would monitor the color or vegetation, the temperature of coastal waters and the density of human activity, in particular fishing.
DriverAid – Matthew Barrat, Ryan Kirkham, Hannah Baker and Hugo Phillips, all 18, of Commonweal Sixth Form College, Swindon
Finalist in the Team Category – Awarded £8,750
DriverAid is an app aimed at reducing emissions from non-commercial road traffic by discouraging longer and unnecessary journeys and promoting alternative and sustainable methods of transport and encouraging people to walk or cycle where possible to improve their health and general physical condition. The app would produce scores for each ride based on distance, necessity, and proximity to residential areas, resulting in rewards.